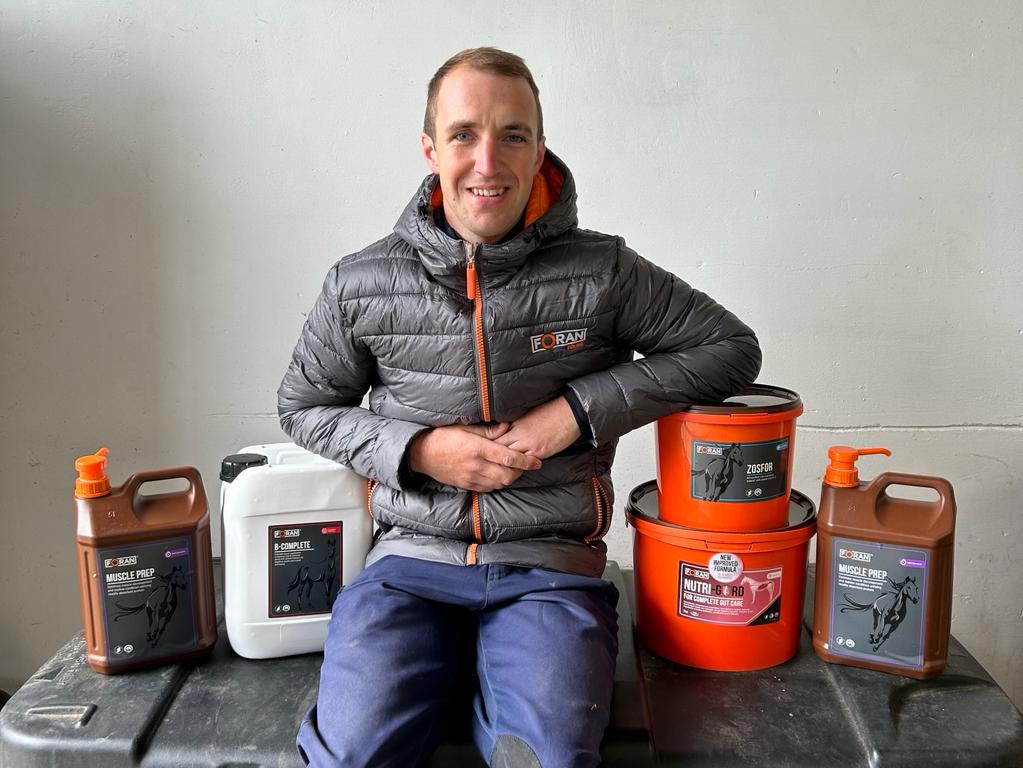 Our first entries are in and we are on the final countdown to the first Point to Point of the season. Dunsmore is fairly local to us and it will be great to get back racing! We have a handful of entries made including horses from Blackmore Racing Club. With Storm Ciaran hitting the South West hard, we will take each day as it comes with the ground conditions and any possible runners. We have had more than our fair share of rain over the past couple of weeks and luckily our fields around the farm can cope with it very well which allows us to continue using them. The 3 year olds have all schooled over the fences on the grass which is brilliant. It is lovely to start seeing them progress which builds excitement for the coming few months. 
Josh received his Foran Equine prizes from winning the Point to Point Trainers Title last season. We are extremely grateful for these companies to sponsor the Awards and would like to thank Foran for this. Foran Equine is part of Connolly's Red Mills, which led us to being introduced to their feed. Charlie Ward, the Thoroughbred Specialist representative, has been extremely helpful with introducing us to the company which we have now made the decision to change feeds too for the coming season.
We had Arioneo in the week before last to use their Vet Equimeter on the horses. This is a device that attaches to the girth that has patented electrodes that collects exercise ECG coupled with GPS and locomotion data. It was a very interesting morning seeing the device and how it works along with the data it can produce. We have various work routines here at Blackmore Farm, so it was very helpful to understand how hard each horse works doing different pieces of work. We are hoping to have a couple of devices to hand on the yard which will be a huge positive to look into each horse's fitness, heart rates and recovery. 
Longshanks has been very kindly gifted a big tub of Gut Balancer from Protexin Equine Premium. We hope it makes a big difference to his general wellbeing and will support his digestive functions and efficiency to get his results back on track. 
It is never too late to get involved in our very exciting Racing Club. Please do not hesitate to drop us an email or message for more information on this.